Crafting your own musical stories offers a little bit of everything, arts supporters say, but kids admit it's a lot of work.
By Ellen Fagg Weist | Photography by Todd Anderson
Act 1
The first rule of the Opera by Children program is that students, not the adults, do the work. Over one school year, students work with teachers and drama mentors to craft their own musical story.
At Salt Lake City's Pacific Heritage Academy on this December morning, composer David Naylor introduces himself with a simple little ditty he made up on the spot. "My name is David, and I'm wearing a blue shirt," he sings.
In response, he asks each student to warm up his or her voice with their own tuneful introductions, and most are punctuated with shy giggles. But one ponytailed girl in a gray school sweatshirt announces herself a little differently: She belts.
"My name is Sohfe, and I am a g-o-o-o-d singer," she sings, demonstrating the confidence needed to audition for a reality TV show. Or maybe the confidence of a third-grader auditioning for the lead role of the Sea Witch in her classroom's opera, "The Story of the Sea Adventures." Sohfe Hansen's whole family is musical, third-grade teacher Melshihna Folau explains later.
After the musical introductions, Naylor holds up a copy of the class's libretto, which Folau's students wrote with a drama mentor the previous month. "It's very nice, by the way," Naylor says, adding the story will be even better as a song.
The plot of "Sea Adventures" focuses on what happens after explorers find an underwater Pacific Ocean kingdom. The kingdom dwellers are fighting, and so the explorers work to help the sea creatures and mermaids get along with the Sea Witch and her minions.
Naylor explains how this music creation session works. He'll tape each student singing a line of the libretto into his recorder, then everybody will listen as he replays the recordings at a fast speed. "It will sound a little Munchkin-y," Naylor says.
One tall third-grader sings the opera's scene-setting line: "The beautiful aquamarine coral reef is our home." "I was so nervous," another girl admits after Naylor records her tune.
Back at his studio, Naylor will translate the recordings into music language, including operatic arias and recitatives. "Whenever I can, I will use your melodies to make songs," he tells the class.
Act II
Last school year, Opera by Children — an arts education program of Logan's Utah Festival Opera & Musical Theatre — helped students create 216 original musical stories in schools across Utah. The program sparked the creativity of 6,390 students who created and performed operas, while 63,215 of their peers attended their shows.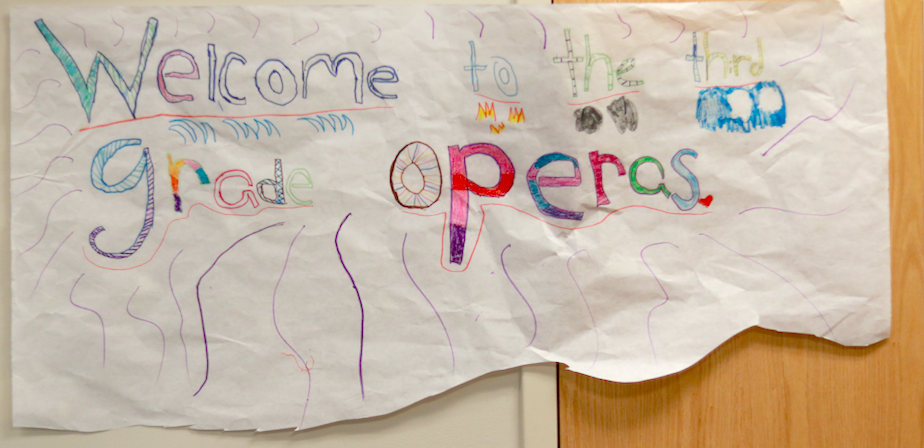 Here's how it works: Over the course of a school year, students write and perform their own musical story, learning about stagecraft in eight sessions with drama, music and art mentors.
As part of the Opera by Children program, Utah students performed librettos ranging from Pacific Heritage students' underwater adventure to Plain City Elementary's "Promontory Point," a story about the transcontinental railroad, which was completed in their backyard 150 years ago.
Across the hallway from Melshihna Folau's classroom at Pacific Heritage — a west-side Salt Lake charter school celebrating Hawaiian, Tongan, Samoan and Hispanic cultures — Jessica Tsu's third-graders wrote "Extinction Day." The opera is set on a peaceful island, where T. rex dinosaurs live. Everything changes, though, after a dramatic volcanic explosion.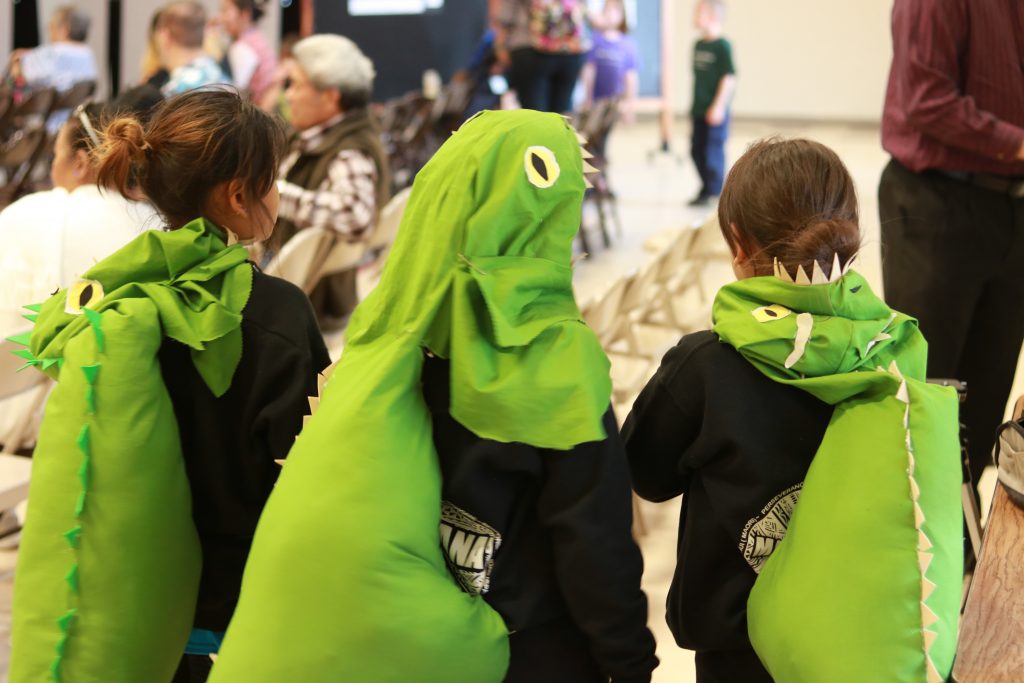 On show day, at the school's annual Celebration of Learning program, the opera students have posted exhibits demonstrating what they've learned. One student in Tsu's class reported how hard it is to concentrate on singing and dancing and hitting your marks, all at the same time. It's harder to create an opera than it looks, Folau understates.
But in the beginning, each opera starts with brainstorming sessions.
And then the real creative work begins when students start to think about which ideas are important enough to share with their parents and friends.
Opera by Children, now in its 23rd season, is funded through public and private donations, as well as state grants distributed through the Utah Division of Arts & Museums and the Utah Board of Education's Professional Outreach Program in the Schools.
No matter how many years have passed, former kid opera performers report to their teachers that they still remember every note in the score they helped write. They say the work of making an opera was the year's most memorable classroom lesson.
Act III
In mid-May, it's finally paint day at Pacific Heritage. Now visual art mentor Maria Lindsey is pouring paint directly onto a large piece of cardboard, which in two hours will be transformed into an ocean scene, including an underwater castle and a shipwreck.
"The tricky part with cardboard is to get the paint into the creases and folds," she tells Folau's students, who are gathered in the school's cafeteria, under a ceiling decorated with more than three dozen world flags.
She demonstrates how to move the sponge back and forth, "like an elephant's trunk." "You want to transform the cardboard," she says. "Make the strokes the way the water moves. I don't want it to be completely mixed or completely even."
Usually, the sky appears darker near the ocean, the artist says. She adds a touch of green paint to the blue water in the foreground, and then changes sponges to paint the sky. "It's kind of like I'm driving my car right along the edge of the water" to create the horizon line," Lindsey says.
"She's a good driver," Folau says.
"She doesn't drive like my dad," one student retorts, which makes everybody crack up.
Nobody cracks up two weeks later at the final opera performance. On this May night, parents and siblings pack the auditorium. Under that riot of colorful flags, most audience members stand to watch the entire musical, nearly everyone filming the show on cellphones.
After a year of work, after months of writing and singing melodies and memorizing lines and creating the choreography and painting sets and finding the right costumes, everything comes down to this 10-minute performance.
"The Story of the Sea Adventures" concludes with a big undersea party where minions and mermaids and explorers come together to celebrate by eating seaweed cake. Pacific Heritage third-grade performers — known as Kumu Folau's Crew — sing their hearts out to rousing applause.
"Opera's great because it has everything," Gee says with the authority of 23 years of helping children create their own musical stories.
MORE >> To learn more about the Opera by Children program, visit: utahfestival.org.
APPLY >> To bring POPS programs to your school, visit: popsutah.org/about-us.
LEARN MORE >> For information about Utah Arts & Museum grants and arts education programs, visit: artsandmuseums.utah.gov/aboutartsandmuseums.